RRT: Disability Determination Process Improvements
For years, disability applicants, their families, advocates, and state and federal employees have done their very best in an outdated disability system with ever growing backlogs, processing problems and lengthy time delays in decisions. With Social Security's issuance of their final rule on Disability Service Improvement (DSI), they are taking a significant step forward in improving service delivery. Details can be found here: 
http://www.socialsecurity.gov/disability-new-approach/
The final rule provides for: 

A quick disability determination process for those who are obviously disabled. Favorable decisions would be made in such cases within 20 days after the claim is received by the state disability determination agency. 

A new Medical-Vocational Expert System (MVES) to enhance the expertise needed to make accurate and timely decisions. The MVES will be composed of a Medical-Vocational Expert Unit and a national network of medical, psychological and vocational experts who meet qualification standards established by the Commissioner. 

A new position -- the Federal Reviewing Official -- that will review state agency determinations upon the request of the claimant. This will eliminate the reconsideration step of the current appeals process. 

Retention of the right to request a de novo hearing and decision from an Administrative Law Judge if the claimant disagrees with the decision of the Federal Reviewing Official. 

Closing the record after the Administrative Law Judge issues a decision, with provision for certain good cause exceptions to this rule. 

A new body -- the Decision Review Board -- to review and correct decisional errors and ensure consistent adjudication at all levels of the disability determination process. The current Appeals Council will be phased out gradually. 

FROM DOUG's DESK:

Couldn't make up this; "One For The Books Story"

In my humble opinion, this story is one that no one promotes, cares about, or cares to hear. This type of action seems to be becoming more and more the rule rather than the exception and apparently very prevalent in society today.

Picture this… a 45 year old female driver out on her route on 09/16/ 2003 at 11:04AM, doing her job the way she was trained when she is pinned between two (2) cars by a careless driver, injuring her so bad that she'll never be able to perform the same delivery duties again. The impact was so strong that four (4) other parked cars were damaged.

Fast-forward… after numerous surgeries and much pain and anxiety she is told by her employer that they do not have a position she qualifies for. Her union is of no help! The company treats her like a disposable piece of meat after over twenty (20) years of dedicated service by telling her they have no jobs she can do. 

In this day and age, how could she not be properly taken care of ?   During my employment, this same company gave a job for life to a gentleman who lost an arm in one of their conveyer belts at the Jefferson St. Hub in Chicago, IL. This company also found other permanent jobs for injured drivers on workman's compensation at various Hubs and Centers. They also found other work for drivers who lost their CDL'S because of too many traffic citations and a couple of convictions for DUI'S.

As Paul Harvey was fond of saying… "And the rest of the story is;"

The careless driver who hit the gas pedal instead of the brake was Gregory Johnson, a manager working for UPS, driving his own personal car doing company business. I understand he has been promoted since. The injured forty-five (45) year old woman package car delivery driver was Fran Whirl, of Noblesville IN, (IBT Local 135) who was/is apparently expendable.

One can only wonder if the owners of the four (4) other damaged parked cars were compensated or if someone declared this thoroughly avoidable incident (accident) an act of GOD or some other such feeble excuse and ill-logic.

This sad story, gives a whole new meaning to; "What can Brown Do For You"

Update - An Injured UPSer's Story

I had to reapply for food stamp benefits this past month which requires income verification from UPS.  I just found out this week that when UPS sent that information they informed the cabinet that I had quit and was no longer on the list of employees.  That was the first I had heard of that.  I called my union rep thurs night who I haven't heard from in months.  I am supposed to call him back this evening.  As of right now our food stamp benefits have been stopped for me and my 3 kids.  I asked my union rep once again about filling a grievance for benefit payments from UPS (like it reads in the contract) and once again he told me to ask my lawyer that I had to hire to deal with Liberty Mutual... 

 "My point?  If you had a union that represented you and you counted on it to make sure you didn't lose your job, and found out it was working in collusion with your employer, would you file a grievance?  The above complaints will prove beyond any reasonable doubt that this happens across the country."

 This is exactly how I felt about my union.  I did not persue becoming a belt supervisor or trainer because I wanted the job security of being in the union.  I was even active on the CERC and Safety Committee's (@2 years).  What a joke!  I've now been off work due to an injury (documented by my doctor as being work related) with ZERO benefits since April 2004 - almost a year now.  I am a single mom of 3, still fighting for sufficient child support as well as a divorce for 2 yrs now, working the welfare system to survive and provide for my kids, evicted from our home last August, working with a Workers Comp lawyer trying to get benefits, had our health insurance canceled by UPS (after being off 6 mths-10/04), and most recently had my car repo'ed.  I'm telling you this because from my point of view I have been jumping through hoop after hoop and getting no where real fast.  There's a list of time consuming requirments attached to everything I have to deal with and need to find something that actually produces income at the same time.  I want to fight for benefits and do what I can to participate in the fight against UPS but not sure exactly what I need to do to put my situation in writing so that it can be used as well...  I was told my contract states that UPS pays benefits to employees from the time they are first off work and assume a grievance needed to be filed by my union. My Union refused to aknowledge any agreement stating that being in the contract and has continued to tell me to take it up with my WC lawyer.  The Union has only offered to file a grievance for me for disability benefits which would be me saying it's not work related and then probably not getting disability benefits either.  They stated before they didn't file anything for me because I didn't ask which would be because I was under the false impression that they would advise me of my options but when I found them out elsewhere and DID ask they still refused...  Thank you in advance. 

ADDED 2/19/05

-------------------------------------------------------------------------------------------------------------------------------------------------

How does someone get in a mess like this? Read on.... 

This article was originally published on the DenverBrown.com in September, 2004. 

Reprinted here with permission

An Injured UPSer's Story

Work to Welfare 

UPS likes to brag about its Welfare to Work Program, a good program in theory. But in reality, they also run a Work to Welfare Program. They employee people whose job it is to reduce comp and disability claims. They give millions of dollars to United Way and let their own people fall through the cracks. Here is one such story. 

           08-09-04"Not that anyone has cared but I have worked for UPS since 4/2001. I became the PD6 LVD Pick Off (Lex,KY) @2/2002 and was the CERC and Safety Rep for my belt for @ the last 2 years. I am a single mom of 3 and have not been able to work due to an injury since 4/9/2004. It's now August and I am still fighting for benefits. Being a union member has done me no good whatsoever and not one person from the union or UPS could care less that I have been served eviction papers (adding an additional $100 to my late rent) more then once these last few months. UPS brags about how great they are but working my ass off for them for 3 years has only earned me a regular spot at the end of the WELFARE line right behind all the lazy ass people who don't even try to work. I have supported myself since I was 17 yrs old and now that I'm past 30 I have for the first time ever not only had to ask for help but BEG. I have never been so humiliated in my life!! Let me be abundantly clear that not one single penny has been sent to me by UPS or my local union to help me keep my home. I can not afford the PT treatments needed to go back to work but was told I can't come back until I can resume my regular position as Pick Off. I only have my medicines because the doctor gives me free samples but at my last office visit I was put in tears by the office manager who threatened to have my insurance cancelled because for the very first time I asked to be billed for the $20 copay. I had to sign a contract agreeing to pay them by the end of the month or I would be reported for breach of contract with the insurance company for not paying the $20 copay. I've had to borrow money from my 11, 7 and 3 yr olds piggy banks just to put gas in my car. We have just now been able to have our hot water restored after more then a month. How pathetic is it that I have to take my 3 kids to my little sisters apartment or the KY horsepark campground just to take warm showers?! UPS supposedly has a "Welfare to Work' program but they sent me from 'Work to Welfare'!! My local union suggested I hire an attorney. I have paid union dues for 36mths just to be told to hire an attorney. I was born blonde but I could've given myself that advise for free!! What has brown done for me??? Taught me to thank god for the welfare system!! And by the way UPS does not support employment inquiries through the website they set up from any social services. Other companies support inquiries from social services but UPS chose not to!" 

Read on:

           08-10-04"I can't tell you enough how upset it made me to read the different stories on upsers.com about how much UPS helps the community and the welfare to work program, etc and then when one of their own employees needs help all I get is we're sorry or good luck... I've worked there for 3 yrs, been actively involved in CERC and Safety, and became first the weak side pick off and after just 9 months became the lvd pick on my belt. I have only heard of one other female at that hub that is/was a picker. My point is I came in and did my job and then some and when I was injured none of that mattered. I sent my message out looking for help with my situation. UPS told me not to return until I could do my job but until I get some type of benefits I can't pay the copays for the PT treatments the doctor ordered. I am supposed to go 3 times per week which if I have to pay my copay is $60 each week. I have been denied disability twice and have recently hired a lawyer to appeal the denial from workers comp. He has sent them a letter with office notes from my doctor but I am still waiting for a reply. I want to get the medical treatment I need so that I can get back to work. I was raised to earn a living and have done so until now. I have three kids - ages 11, 7 and 3 that I raise alone. It puts me in tears having to live on welfare and having to tell my kids I can't even afford Happy Meals anymore. My phone will be disconnected any day now because I chose to use the small child support check I'm expecting this week to take my 2 girls shopping for school supplies this weekend so they will have them for Monday. I can't work during the day because it would cost me more in childcare then what I would earn. I depended on my income from working nights at UPS and need it back as soon as possible. I am tired of constantly worrying about getting my rent and utilities paid and feeling like a loser. I would like help getting through this situation and getting it resolved but also would like to help somehow so that other people don't have to suffer like we have. I would like to see this process speeded up and there be some type of assistance available if needed. It has been very frustrating running into all these brick walls. I did not want to hire a lawyer because I want a job to come back to but I want UPS to know I'm serious and hope having a lawyer on my side will help." 

The conclusion.

           08-20-04"Thanks to everybody for your recent replies and concern. Just wanted to update you - As I said before I hired a lawyer to help me appeal my workers comp denial. Liberty Mutual - the company hired by UPS to handle their workers comp claims has denied re-opening my case. It was first denied due to just a phone call to me because I told them I did not suffer any actual injury, such as a box hitting me etc, but also that I did not have a diagnosis from a doctor at that time. That was May 12, 2004. Since then I have been told by my doctor that I have a pinched nerve in my neck, buldging disk in my neck and most recently suffering from an overuse injury which are all causing the pain I am still having in my right arm and neck. As of right now, since MY health insurance is covering this, I am still unable to afford the $60 per week in copays it will cost me to obtain the Physical Therapy treatments prescribed by my doctor that would help me recover from this injury. Liberty Mutual was sent a copy of my doctors notes from my most recent appointment along with the letter from my lawyer requesting they review my case. This is the ONLY medical document they have viewed and they will not consider at this time even looking at my medical records incurred by me since April 2004 related to my injury. This past Tuesday 8/16 court documents were taped to my front door ordering me to be in court Monday Aug 23, 2004 at 9:30am for a complaint filed by my landlord titled "Forcible Detainer Complaint'. This Thursday evening at 5pm a 'For Rent" sign was placed in my front yard. When I asked, they would not even wait until Monday to put up the sign. I have no money, nowhere to move, three children, constant pain in my neck and arm and my children and I are now being forced out of our home that we just moved into one year ago Sept 1. I was greatly mislead by a social worker at the welfare office who led me to believe I would have a certain amount of bills paid (including my rent and car payments) for a 3 month period and did not find out until the day we were given our eviction notice that first of all she is no longer employed there and worst of all I was given the wrong impression and have no financial help available. My uninsured car will be repossed by this time next month. I am not feeling sorry for myself - I do know there are people in worse situations but just wanted to update you so that I (and my 3 kids) can be added to the many employees UPS has treated like dirt." 

   Sheridan McGee 

   PO Box 24987 

   Lex, KY 40524 

   shersnot30@yahoo.com 

       Can you dig into your pockets and send these kids a couple of bucks? UPS puts it's faith in profits. 

   Put your faith in people, they are the real bottom line. 

What do you do if you are injured on the job?.

It varies a lot from state to state. But some websites have some good general advice.

The AFL-CIO have some good advice at:

Other websites that might be helpful:

&

Skin Cancer At UPS

NABER has learned that skin cancer is a growing problem for UPSers in AZ and across the south. Think that UPS won't make accomodations for those "sun-sensitive" cancer victims?  NABER knows of a driver in CO that was given a UPS issue wide-brimmed hat.   The hat has a straw mesh top and cloth material brim also it has a chin strap and  a hat band. Similar to the ones shown except brown and with a logo The key may be a doctor's prescription for a wide-brimmed hat.  UPDATED 12/4/04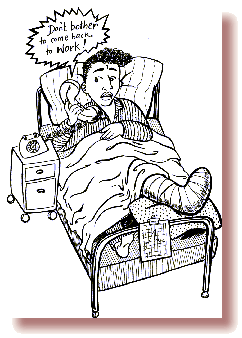 The Contract Says:

Article 14 of the "NATIONAL MASTER UNITED PARCEL SERVICE AGREEMENT" covers job

injuries. In part it says, 

"The Employer agrees to cooperate toward the prompt disposition of employee on-the-job injury claims. No employee will be disciplined or threatened with discipline as a result of filing an on-the-job injury report.  The Employer or its designee shall not visit an injured worker at his/her home without his/her consent.

...The Employer shall provide Workers Compensation protection for all employees even though not required by state law or the equivalent thereof if the injury arose out of or in the course of employment." 

The Parties agree to abide by the provisions of the Americans with Disabilities Act. The Company shall be required to negotiate with the Local Union prior to providing a reasonable accommodation to a qualified bargaining unit employee.

The Company shall make a good faith effort to comply in a timely manner with requests for a reasonable accommodation because of a permanent disability. Any grievance concerning the accommodation not resolved at the center level hearing will be referred to the appropriate Union and Company co-chairs for the Local Area or to the Region Grievance Committee, if applicable. If not resolved at that level within ten (10) days, the grievance shall be submitted directly to the National Safety and Health Grievance Committee.

If the Company claims that the individual does not fall within the protections of the Americans with Disabilities Act, then the grievance must follow the

normal grievance procedure in order to resolve that issue before it can be docketed with the National Safety and Health Committee.

Any claim in dispute concerning rights under this Section shall be addressed under the grievance and arbitration procedures of this Agreement. A

27 grievance may be filed by an employee or the Union, notwithstanding any contrary provision in any Supplement, Rider or Addendum. The submission of a claim under this Section to the grievance and arbitration procedures of the Agreement shall not prohibit or impede an employee or the Union from pursuing their statutory rights under the Americans with Disabilities Act

(ADA) or comparable state or local laws.

Talk To An Attorney As Soon As Possible

File an injury report the day of the injury.
 Failure to do so could result in UPS denying your injury as work-related. An attorney (preferably one who specializes in Workman's Comp) will be your best source of qualified legal advice. In many states it won't cost you anything, unless your attorney wins a cash settlement. An attorney might want you to see a doctor other than the one the company sends you to. 
The company's doctor may not be quick to recommend expensive treatment 
even if it may be the best treatment. 
You may be rushed back to work too early
. Remember, injuries are another cost that companies try to contain. Conversely, your attorney and your doctor have your best interests in mind. NABER has compiled a list of attorneys submitted by UPSers. 
ATTORNEYS
A company working for UPS (Accent Insurance Recovery Solutions is one) contacts all UPSers submitting injury claims to determine third party liability for an injury. If they find evidence of third party liability,  UPS can force the participant to pay for the claim and seek reimbursement from that third party. You may want to discuss any inquiries with your attorney to protect your legal rights.

It is a smart thing to document everything concerning your injury and recovery. Make sure you document everything that transpires between you and UPS. Names, titles, times, dates, and content of conversations with supervisors, managers and or medical providers. Keep a log of everything. Copies of all reports you have filled out at their behest. They have to supply you with a copy upon your request, of the injury report you filled out, within two (2) working days of your injury. UPDATED 8/29/04 

We try to provide quality legal information, but we make no claims, promises or guarantees about the accuracy, completeness, or adequacy of the information we will supply. As legal information must be tailored to the specific circumstances of each case, and laws are constantly changing, nothing provided herein should be used as a substitute for the advice of competent counsel. Legal Information is not legal advice. Although we go to great lengths to make sure our information is accurate and useful, we recommend you consult a lawyer if you want professional assurance that our information, and your interpretation of it, is appropriate to your particular situation.  

If you were denied alternative work 2000-2004 for a disability or injury, CHECK OUT the 
class action suit
 filed Sept 10th, 2004 If you were not allowed to return to work until you were 100% you might be a party to this suit.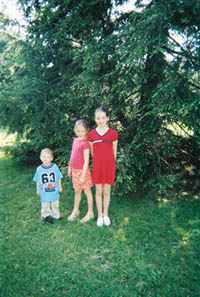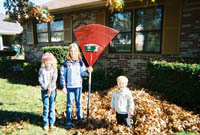 What Can Brown Do To You:

What Can Brown 

Do To You: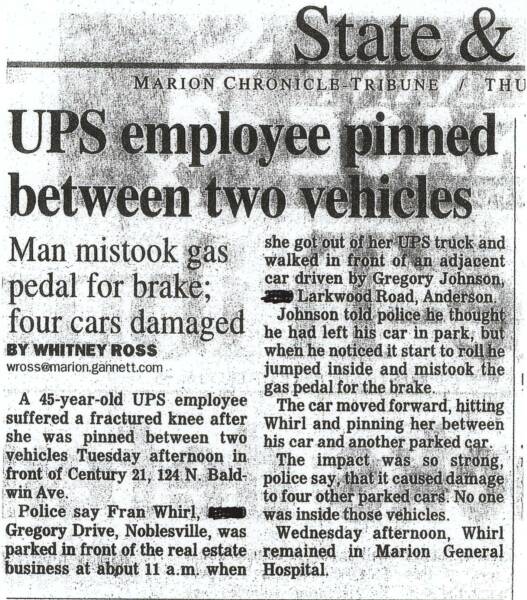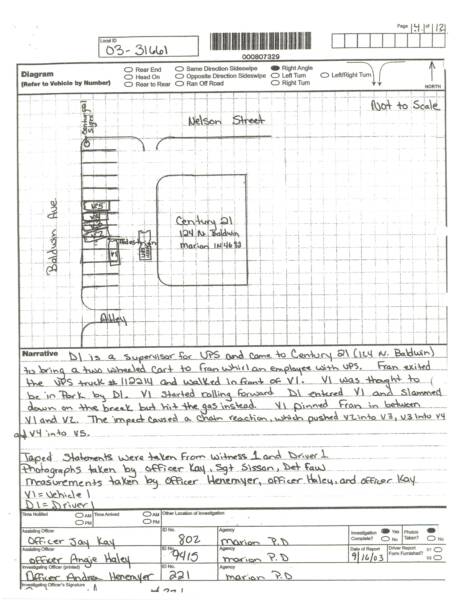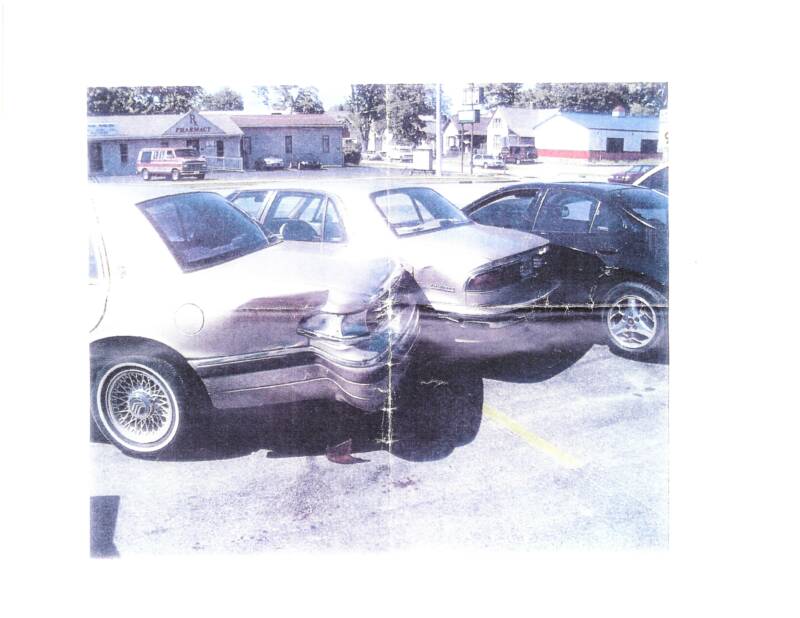 N.A.B.E.R. Inc.

                                                    National Alliance of BROWN Employees and Retirees Inc.

A Florida UPSer "was fired after a UPS official sent a May 2001 e-mail directing supervisors to target 'injury repeater[s].' " 

Unfortuanately, NABER has learned this verdict has been overturned and will be retried.